Our Journey to Wellness: Ruby Jeans Juicery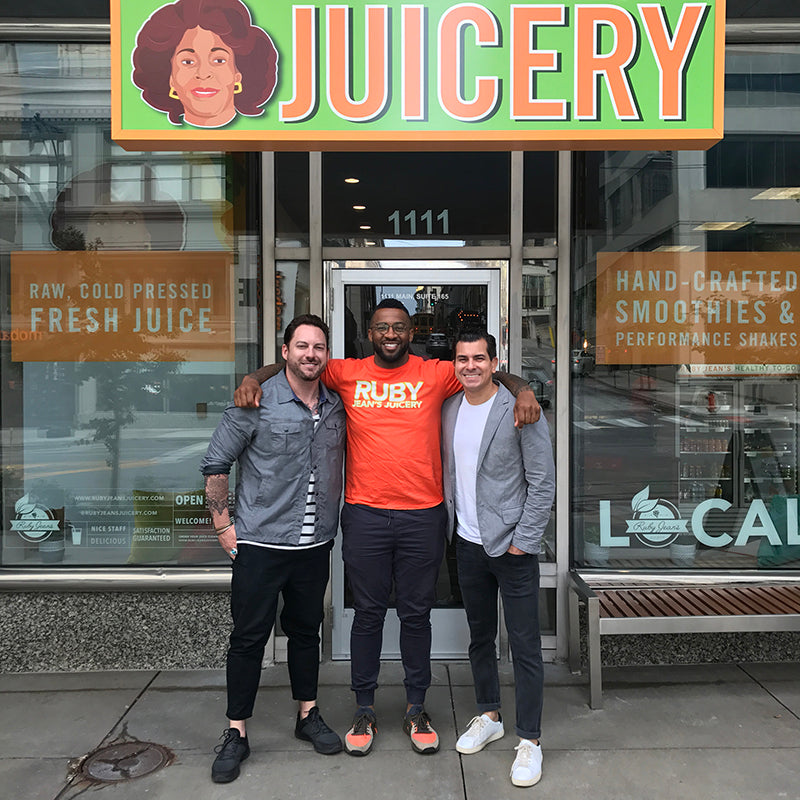 As small business owners still in the first year of our start-up, we constantly struggle with maintaining a healthy diet. We usually work somewhere between 65 and 70 hours a week, opening and closing the store almost every day. Cooking at home is just not an option for us right now due to the lack of available hours in the day. That leaves us relying on more convenient options — and we all know the slippery slope that can be if you're not careful!
Continuing on our "Journey to Wellness", we thought we'd share one of our favorite new local discoveries – Ruby Jean's Juicery. Located at 1111 Main Street in downtown Kansas City, Ruby Jean's offers healthy beverages and snacks in a hip, welcoming environment that is "inclusive for all".  As someone with a slew of food allergies, I often struggle to find establishments who have multiple options that are gluten, dairy, and soy free. Ruby Jean's had a range of great options for me – from gluten-free avocado toast to delicious dairy and soy free protein shakes.
One of the first things we noticed when we went into Ruby Jean's was the heart and soul. The friendly and welcoming environment comes as no surprise after meeting founder and CEO, Chris Goode. We've had the privilege of getting to know Chris on a deeper level — and thought we should share some things we learned about Chris as he was modeling our Fall arrivals.
What inspired you to create Ruby Jean's Juicery?
"Ruby Jean's Juicery was inspired by a newfound love of juicing…and understanding the importance of health. I then took that passion and merged it with the deep seeded love and longing of my late grandmother, Ruby Jean, who passed at age 61 primarily from type 2 diabetes. Essentially, she never lived a healthy lifestyle — and that inspired a desire in me to make as many people healthy as possible by way of Ruby Jean's Juicery."
How do you want Ruby Jean's Juicery to impact the community?
"I want Ruby Jean's to become a melting pot for all races, sizes, sexual orientations, religions, socioeconomic status, etc. — as I believe health is the common ground between all people."
Have you learned anything new about food and healthy eating since you've opened Ruby Jean's?
"I've learned that it's more of a mental battle for most people than I once thought. That's why we try to use my grandmother's story of never focusing on health — to create a less intimidating culture of supporting people wherever they are. We don't want people to feel like they have to already be healthy or in shape to come to our stores. All are welcome!"
How long have you been in the Kansas City area?
"I was born here in the early 1980's. Outside of my time as an undergrad at Missouri State, and a one year stint in LA — I've lived in Kansas City my entire life!"
What are a few of your favorite places to go in Kansas City?
"I love Grand Street Café, Café Europa, and Genesee Royale Bistro. I also think the new Monarch Bar is amazing."
Who do you like to spend your quality time with?
"One of the things I've always said is that I'm already a wealthy man by way of my relationships. I have a great family that I adore and a group of friends that span as far back as 4th grade."
What role does men's fashion play in your daily life?
"Prior to Ruby Jean's, fashion was more of a staple for me. Since opening Ruby Jean's, tee shirts and sweats or shorts have become the norm for the better part of my every day life. Now, when I get the chance to dress well for a meeting, an event, or a date — it truly is a release to express that side of me. Entrepreneurs can get so caught up in just getting through each day, that downtime and socializing can feel like a vacation. That's my chance to be fly!"
If you haven't tried Ruby Jean's, you're missing out! It's another great option to add into your arsenal of healthy food options as you're working towards wellness and a healthier lifestyle. And you'd be hard pressed to find a more genuine and passionate business owner.
-Buck & Joey, ULAH
---